This is the place for RISC-V developers to communicate and take part in RISC-V ecosystem development. RVspace includes the documents of RISC-V development boards, updates on RISC-V software and hardware developments, recent announcements and news about new RISC-V product releases, and a forum for developers to learn and ask questions about RISC-V.
VisionFive 2 purchase page displays SBC users with a full list of vendors of a specific region, wherever you are, you can always find your nearest sales channel to buy VisionFive 2, and our global shipment from China or your home country can deliver the board to you. Use the following page as your purchase guidance:
RVspace Application Center provides SBC developers with application notes and instructions on various single board computer application scenarios. The application artiles come from StarFive engineers, community developers and third party developers. RVspace Application Center is available both in English and in Chinese. English Application Center can be found here:
RVspace Documentation Center provides developers and customers with user/developer guides and datasheets for different RISC-V products including core ip (the Dubhe series), processor platforms (the JHxxx series) and SBCs (VisionFive & VisionFive 2). All the documents are shown in two different languages. English Documentation Center could be found here:
You can find all the StarFive open source PDF documentation on the following page: Available PDF Documentation

RVspace Forum is a platform to connect hardware providers and customers through product release status, technical discussion, software project collaboration, ecosystem news updates. Currently, there are 3 product categories and 8 software/OS discussions. The followings are some of the most frequent links:
VisionFive 2 is the world's first high-performance RISC-V single board computer (SBC) with an integrated GPU. Compared with its last generation, VisionFive 2 has been fully upgraded with significant improvements in the processor work frequency, multimedia processing capabilities, scalability, etc. Its superior performance and reasonable price make VisionFive 2 the best affordable RISC-V development board ever. VisionFive 2 uses StarFive JH7110 SoC with Imagination BX-4-32 GPU. It was launched August 2022.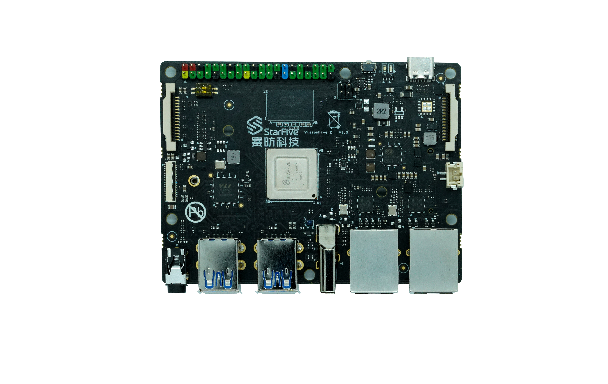 VisionFive is the world's first generation of affordable RISC-V boards designed to run Linux, using StarFive JH7100 SoC. Based on the RISC-V architecture, VisionFive pushes open-source to the next level and gives developers more freedom and power to innovate and design industry-leading solutions.VisionFive was first released in 2021.
JH7100: Equipped with dual-core U74, JH7100 shares 2MB of L2 cache and supports Linux OS. The StarFive ISP is compatible with mainstream camera sensors and the built-in image/video processing subsystem supports H265/H264/JPEG codec. With high-performance, low-power Vision DSP and NNE integrated, JH7100 will make thinking more intelligent and efficient. JH7100 can meet the various real-time visual processing needs of the edge end thanks to the capabilities of various complex image/video processing and intelligent visual calculations.
JH7110 is a high-performance RISC-V SoC, an upgraded version of JH7100, featuring high performance, high power efficiency and high security. Compared with the first-generation, JH7110 upgrades from 64 bit dual-core processor to quad-core processor and increases the frequency from 1.2GHz to 1.5GHz with richer high-speed interfaces and integrated GPU, enabling stronger image processing capabilities, such as 3D rendering.
StarFive Dubhe is the first commercial RISC-V CPU IP to support a rich set of RISC-V extensions, including latest B (bit-manipulation), V (vector) and H (hypervisor) extensions, enabling more edge cloud and high-performance computing applications running on RISC-V.
The Star64 is a RISC-V based Single Board Computer powered by StarFive JH7110 Quad-Core SiFive U74 64-Bit CPU, Imagination Technology BX-4-32 GPU and supports up to 8GB 1866MHz LPDDR4 memory. It provides an eMMC module socket, MicroSD Card slot, PCI-e, Pi-2 Bus, USB 3.0, and many other peripheral interfaces for makers to integrate with sensors and other devices.
The StarFive official news and announcements can be found on the following page: